Explore
The Day You Get Cancelled or Delayed…Flights I Mean
Months ago, our airport has been part of the headlines. Sadly, it wasn't in a good way. An airline caused flight congestion and cancellations for days when it skidded on the runway of NAIA. Lately, the various weather systems have been keeping passengers at bay. Nobody wants to go thru flight cancellations or delays, but the reality remains. Passengers will have to carry the burden of waiting. You have put your thoughts of what lies ahead to your next destination on hold. You're also in limbo of will I get the next available flight and when will that really be.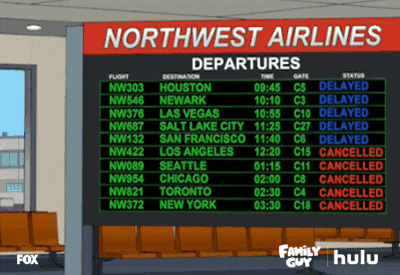 Just a quick personal story — In my air travels for years (not to brag), not all of those flights have been smooth or hassle-free. The first few years was more of just getting delayed flights for an hour or less. One flight broke that record. I had the "C" announcement once from an overseas flight back to Manila. It so happened my travel was in time of the APEC summit and the delegates' flights must be the priority; thus, no public flight travels. I thought the flight I'm in was an exemption, because it wasn't in those list of cancelled flights announced in social sites. Still, on the day I was at the airport, the breaking news came and I was left with no choice. Was I pissed? Of course, I was. But to make a mess out of it, waste of energy. It wasn't the best time to be optimistic, but I know the only option I have is to stay put and wait. I was in luck to have stayed in my friend's place so all I have to do is go back.
These situations are the ones, sadly, beyond our control. The least we could do is learn from it and prep for our next trips. With that, I'm sharing my few cents worth to make it a bit less annoying or less of a dilemma for you.
Prior to traveling
1. Include an emergency fund as part of your travel planning.
Admit it or not, we block off thoughts that not-so-good incidents might happen. Of course, who would want that anyway? I'm sure no one. But should that be a reason for us to block off preparing and planning "just-in-case" situations too? I guess not.
Everytime I travel, regardless if I ended up well at the comfort of our home, I still include spares in planning ahead. Depending on which country or destination you will be heading, the safest spare fund is at least a week's cost. It doesn't mean you shouldn't travel if you can't meet that, still up to you. From experience, I prep an emergency fund of at least 2-3 days expense. This one I don't spend even up to the last day of my trip. When my flight got cancelled and rebooked a few days later, I was able to survive at least for my food and transpo, rather than being stuck at the airport the entire time. Now what happens to this amount when I get back and end up not using it? It becomes my savings or my food-transpo allowance at work.
2. Prep for spare clothes too.
For the glam-slash-poor packer like me, I end up being conscious with baggage weights. I'm sure you guys are too. Sometimes, we end up packing just what we are about to wear in the entire trip. It pays to have a pair or two of wardrobe, in case you end up getting stuck. There are laundry service stations you could stop by to wash and wear them again. In the event there's no nearest station or you are just at the airport, changing clothes the next day will not only save you a few bucks for laundry but save your fellow travelers noses (crack the code🤣✌️). And with clothes, I don't only mean shirts or pants. That also includes underwear.
However, please don't make this as an excuse to pack all your clothes from the closet. 
3. It pays to tick that travel insurance.
Admit it or not, this is the one item we pass on ticking during online ticket purchases. Hands up, I'm a culprit of this at times cause 1) I need spend less for the travel fare and 2) I just don't feel like having one. However, current scenarios (like weather disturbances, airport congestion and even, political mayhem) should already give us the idea to avail travel insurances when we book our flights. The scenarios are unpredictable and no one knows when they end, right?
There are two things you must consider before ticking it (if you're still doubtful availing it on every trip): destination and travel period. Then, decide. Also, I suggest you read the travel insurance policy of your fave airline while you're still ain't in the online purchase mode.
During the cancelled flight
1. Be updated.
These are the moments you have to put your attention skills at its best. From time to time, check the news in various forms of media. Contact the airline or travel operator for further updates. This may be a setback or downtime, but don't settle being silent. Probe for info. You might end up not being aware that your flight will resume in the next few minutes or hours already.
2. Patience is a virtue. Waste your time wisely.
Yeah, the flight got cancelled. Now what? Well, nobody wants to end up like Tom Hanks in the movie "The Terminal" that long.  But rather than dwelling on something that's already happening, better keep that self busy while waiting. If it's just a delay for hours, killing time can come in various forms —- books for bookworms; sketching, coloring or needlework for the arts enthusiasts; Netflix or socmed browsing. Worse case, it might take an extra day or more. If that's the case, make that discernment — would you stay in the airport or would you opt getting out again and roam a bit more. 
From my story in tip 1 in 'prior to traveling', I was informed by the airline the next available flight is after 2 days and I got rebooked. Somehow, I managed to roam around the places near the airport and get away from the impatient thoughts in my head. 
If this ain't going to work for you, at least walk within the airport premises. Make use of it especially if you're in one of the top airports overseas. 😉 Plus, you can easily get back the stations or gates when the airline announces flight will resume.
3. Know your passenger rights.
I feel you, the excitement of traveling and being in your next destination. But, what if the excitement had to be preempted with distractions like cancelled / delayed flights? Seriously, it pays to know your rights as a passenger. Airline companies give us the privilege to fly cheaper at the best destinations we can think of, but not during mishaps. We even end up neck-strangled or ignored as if we didn't buy the tickets from them. We are customers no matter how much we paid for it (the 1 Peso fare or otherwise).
If your fave airline adds up to your pain during cancellations, they shouldn't be allowed to get away with it. Ok, I don't mean go to the streets and protest. There is a formal way to raise a complaint. Let's keep it collected.
Allow me to share the airline passenger rights. The whole pdf document can be found at the Official Gazette website of our government. Below is the summarized, visually appreciated version:
4. Keep yourself on the radar.
Not to the point of announcing to everyone in social media, ok? 🤭 What I meant here is let your loved ones know. A direct message, SMS or one overseas call will do. This is to ease the worries from your folks back home and to save their time too (waiting for you at the airport if you're bound to be fetched).
This goes well too for those who traveled and stayed with a friend or family member in that destination. Let them know if you're flight got cancelled. Hmm…not necessarily to stay back in their place if you're shy or if they're not offering you to go back (believe it or not, the last one could happen…reality bites lang 😶). Let's say it could also be a sign of courtesy to let them know. 
Hope these few tips could help you in such situations. Again, nobody would want to be in it, but it pays to be aware and prepared. When it happens, a little patience and open mind would matter. At the end of the day, we will still arrive at our destination. 
For those who have experienced such scenarios, how did you surpass it? Or if you had a different approach that worked, let me know…
(ps: If you have any thoughts in mind you want me to share in this space, keep them coming.)
Cheers,
Calai